Come and enjoy a relaxed, fun and friendly workshop learning a new skill at my studio near Thame, in South Oxfordshire.
Bookings now being taken for Spring 2022
I run two different types of workshops:
1) Workshop one
INTRODUCTION TO LINOCUT
Afternoon small group workshop covering the basics of Linocut, producing a set of one colour prints. £50 per person. No previous experience necessary.
All materials included in the workshop fee.
We will cover…
Using the tools and mark making.
Selecting an image.
Different types of Lino.
Transferring the image to Lino.
Carving tips
Inking using water based inks.
Printing by hand
Dates throughout the year, currently…
5th February 2022 *FULLY BOOKED*
2nd April 2022 *FULLY BOOKED*
7th May 2022 *SPACES*
Alternatively bring a friend (or three!) and book this workshop as a private afternoon's tuition (dates to be agreed by participants) (Max four people) £50 per person.
2) Workshop two
REDUCTION TECHNIQUE
A whole day one-to-one or one-to-two workshop learning reduction technique. We will make a multi coloured, multi-layered print from one lino block. Suitable for those with previous experience of Linocut.
All materials included in the workshop fee.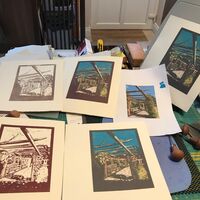 (Dates to be agreed by participants) £90 per person (£160 for two people)
Are you looking for an activity for your club or group? Message me and we can discuss your requirements.
Workshops are for adults and children over the age of 14
Numbers will be kept deliberately low to allow for spacing and airflow.
For queries please use the contact form, for bookings go to my SHOP section.
Workshop Testimonials

"Such a lovely afternoon. A fantastic way to switch off for a while. Gerry you are so talented and very inspirational. I will definitely come to another one"
- LW

"Heartiest thanks to Gerry Coles for guiding me through my first linocut reduction process. Her calm and precise guidance made the process clear and allowed a good grasp of the planning for the carving, and play of the colour composition. Gerry provided the right level of nudges and prompts whilst all the time nailing the colour abstractions I was attempting to convey verbally. Her uncluttered, well organised and well equipped studio in charming Oxfordshire provided a nourishing space for good things to flow. Well worth the trip to Oxfordshire! So chuffed by how this turned out!"
- N